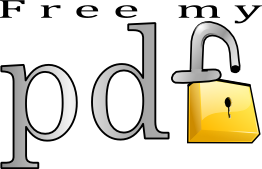 You'll get a download dialog box, where you can save the unlocked PDF.
YOU MAY NOT USE THIS SERVICE FOR ILLEGAL PURPOSES. See below for details.
Use this site to remove passwords and restrictions (such as printing, copying text, etc.) from PDFs.
Note: This only works for PDFs that you can open and read without any 3rd party plugins. PDFs that require a password to be viewed cannot be unlocked by this service. This is because this is not cracking. Viewable PDFs with restrictions are not really protected, no more than a door with a broken lock, as opposed to password-protected PDFs.
If you like this service, you can donate here. This is not payment for the service, using it is free. You can set the amount to donate on the donation page.

Thank you!
An important note: There are many valid reasons to want to remove a password from a PDF (Ask your favorite lawyer about copyright and fair use, or Google it), but there are also many bad and illegal reasons. YOU MAY NOT USE THIS SERVICE FOR ILLEGAL PURPOSES. You also should not use this service for immoral puposes (it's not always the same). The owner of this site takes NO RESPONSIBILITY for the files processed on the site or generated by it, or anything else related to your usage (legal, technical or otherwise). Use it at your own risk.
Hosted by HostUS Hosting